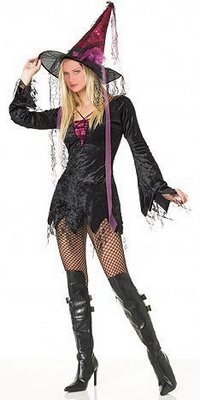 Hallowe'en the best time for sissy's!
Thats right girls, I can dress you up and take you out! Of course, you do know what you'll be doing, don't you. Dressed up in your finest of feminine lingerie, with all the wrapping over top! Hallowe'en night is a night for sissys to rock!
I will be staying at home on Hallowe'en nite just to make sure I am here for all you whores, I don't want to be disappointed.
I will however, be going on My hallowe'en party this Saturday before hallowe'en. Check out My costume, isn't it perfect?!
Now girls, if there is a hallowe'en party near you on the weekend before, I insist that you attend dressed completely in femme. Take advantage of every night of dress up! Go out to the local club, attend parties, but most of all be dressed!
Naturally, while your attending these events, I expect you to be your normal "cock hungry" self, and indulge by sucking as many big, thick dicks as you can get your hands (or rather your lips) on. I want a complete briefing of it all!
If you need suggestions on what to wear, or make-up, then email Me or better yet call Me for some super sissy phone sex!
Mistress Randi
http://www.sissyphonefantasy.com/randi.html
http://www.phonesexwhimpers.com/randi.html
 
888-733-2243
Be good girls.