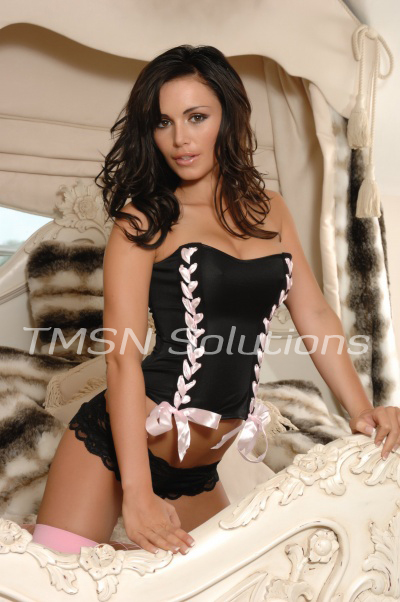 As soon as I heard the convention was in town, I knew that it was going to be the perfect opportunity to further Ashley's training.  Before we left for the hotel I prepared my sweet sissy slut with a darling ensemble of tight white lace edged with fuzzy pink. I could sense her excitement as she was paraded about the lobby on her collar and leash proudly proclaiming her to be Sadie's slut.  Several men looked her over before a representative of the group approached me with an offer. Tonight Ashley was to step across the line from sissy slut to whore.
In preparation for her upcoming service I pushed the butt plug that looked like a fuzzy pink tail into her pussy. Pulling her skirt up over the tail so everyone could enjoy watching it wiggle while she walked I lead her to the elevator. She was to obey every command and grant every wish these men had for her. First she was to dance and display herself while they all stroked their cocks watching. Then Ashley went to her knees crawling to the closest dick to show off her oral skills. Soon two cocks were filling her mouth as I pulled the butt plug from her pussy for the third cock to find a home.
My sissy boy Ashley is learning her lessons well. Practicing often and becoming the best cock loving cum whore she can be. I couldn't be prouder of my darling sissy boy.
Sadie
1-866-239-2972
www.sissyphonefantasy.com/sadie.html